On last year, we visited
Kinrara Residence by Mah Sing
(MS) when MS first launching their link house.
Here's the photo of Master plan from previous post.
Kinrara Residence by Mah Sing
Today - Saturday 9 April 2011 is the official launching of the Mah Sing ClubHouse.
A lots of programs arranged!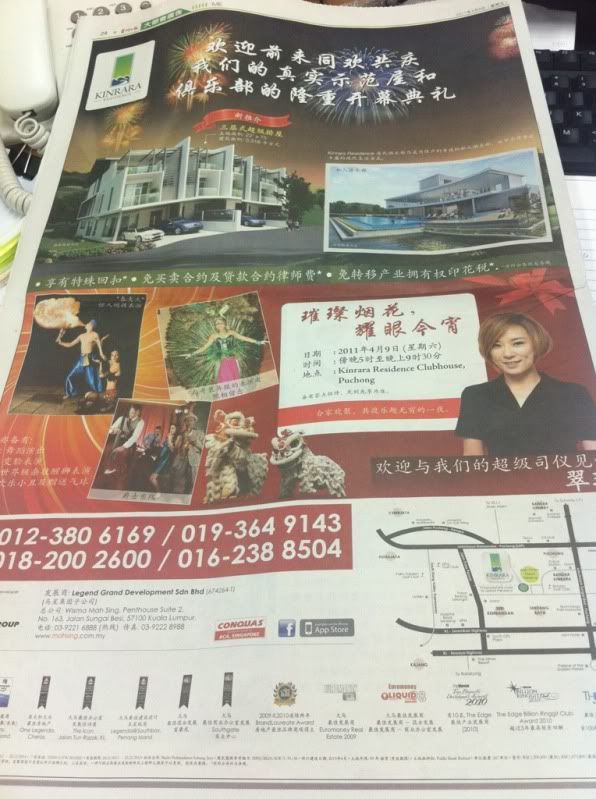 Be there!
There's also fireworks!
Its about 7 months ago since Mah Sing first lunches their project Kinrara Residence and now there's a road leading to Semi Detached houses show houses and ClubHouse !
2 ways road leading to the ClubHouse & Semi-Detached show houses. Drive slow, ya.
The entrance of Palmiera.
The Club House! Its completed within 7 months!
The 2 storey semi-D show house! You must go inside and see the interior design! Its AWESOME!
The specification of the 2 Storey Semi D house!
You can build this with your neighbor ! Its awesome! Its all about lifestyle !
If the 2 storey Semi D show house already AWESOME, the 3 storey Semi D house even have the MORE AWESOME factor! haha...
The specification of 3 storey Semi D.
This will be the empty land between you and your neighbor.
The 3 Storey Semi-D house! Its so nice!
The model of semi detached houses...
No doubt, Kinrara Residence going to be a lifestyle residential area.
At the movement, the sale office is now located at the Club House, you can book your dream house @ Mah Sing Kinrara Residence Club House.
Happy shopping!
End.